Today I am applauding and celebrating the return of young folks to Ipoh, whether out of necessity as in old parents or tired of the rat race in bigger cities. Plus the lure of a more peaceful lifestyle in Ipoh with support of family nearby.
This accounts for the plethora of cafes and restaurants opening constantly all around Ipoh . Some fail and some have instant success, all based on whether they have niched themselves, targeted and catered to the right demographics or they have deep pockets themselves. Or if their parents or relatives will support them physically (as in service, kitchen or cashiering) or fund them in the difficult early months or years.
Western restaurants in Ipoh generally take a longer time to establish themselves. Either they are the usual run-of-the-mill cafe type catering to the younger crowd more interested in "see and be seen" than quality of food served; or they are the rock solid establishments with respectable food quality and prices, some higher than others.
Recently I have been hearing spontaneous praises for Above Gastro Bar. Owned by Lai HinHan with his brother-in-law Chong Yu Cheng (called simply YC), this restaurant sitting on the top floor of Book Excess, has been evolving and like a caterpillar, has been transformed into a glorious butterfly.  Started as a wine bar around 4 years ago, serving pub food and snacks, people would come for a drink to admire the view where at sunset, the whole  panorama of Old Town Ipoh bathed in a golden glow.
Today people are now coming just for the food and wine. The sunset view is still there but it is now in the ranking (in my opinion) of being the most innovative and superlative fine dining restaurant that Ipoh has to offer. I've been meaning to go for a meal but alas, the prospect of climbing 2 flights of stairs to the rooftop where the restaurant is, was too daunting given that I have a lung problem and even 3 steps gets me winded.
Yet serendipity stepped in one evening when I found myself sitting with Lai Hin Han, co-proprietor of Above Gastro Bar at a Wine and Food Society dinner who naturally asked me if I had been to his restaurant. Having replied 'No' and explaining the reason, he made me a promise to make the climb easier for me.
Han subsequently called me a few weeks later and asked if he could put a chair on the landing of the first flight of stairs and would that make it possible for me to get to the top. I jumped at the offer and knowing that my family was coming soon and with a strong son-in-law to support me up the stairs, it was done.
Am I glad I did because the meal we had was simply stupendous. My daughter and son-in-law who live in London and my sister from Singapore were totally blown away.
Course after course, beautifully plated and ingeniously curated, made for a meal to be talked about and remembered.
What is unbelievable for me when I chatted with YC who helms the kitchen, is that he has no Chef's training whatsoever as he graduated as an accountant as did Han, his brother in law. And where did he get the cooking expertise from, I asked. Would you believe from YouTube??
But seeing and tasting is the answer and YC certainly did not disappoint.
We had a few starters as there were five of us and we wanted to try as many dishes as we could. The first of these was the Salmon Tartare, an easy snack of Tempura Kaduk (wild pepper) leaf and soy sauce cured salmon. The explosion of flavour came from the kaffir lime mayo, which is made from their house made plain mayo, laced with nam prik pao also made inhouse  (Thai chilli jam) as well as kaffir lime leaf. The crispy Kaduk leaf with its own unique flavour lent crunch, providing texture to the soft salmon. RM14 each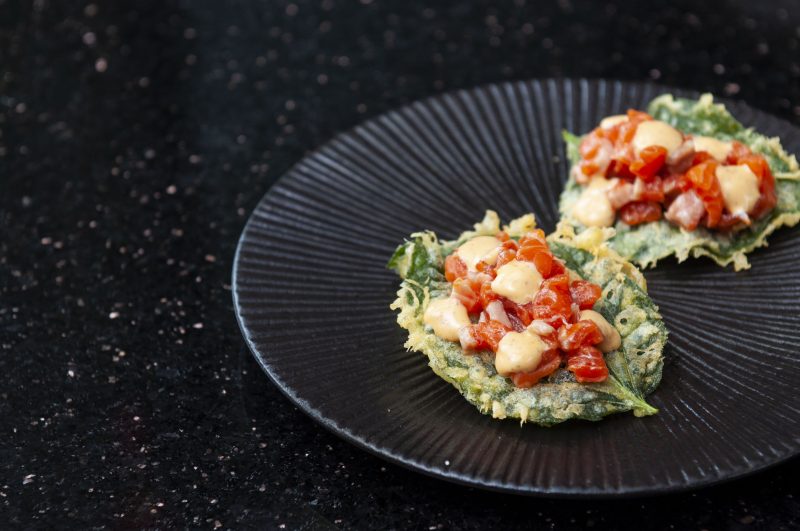 Next came raw zucchini ribbons topped with deep fried asparagus spears, pickled shallots and most importantly, a mango and Dijon mustard dressing which breaks away from the traditional vinaigrette where oil is the main body of the sauce. By making mango the bulk of the dressing and just balancing the sweetness and tang of mango with a touch of Dijon mustard for savouriness, and the spice and bitterness of extra virgin olive oil, the dressing screams mango but still offers much more complexity than meets the eye. RM28
The Triple cooked potato was inspired by Heston Blumenthal's triple cooked chips. Their version uses Russet potato, which creates a more floury and crunchy crust as opposed to Heston's version with the glassy, snappy crust. Served with cream cheese, a hybrid Canto-Sichuan chilli oil, deep fried capers, pickled shallots, and the most hidden element, a charcoal infused olive oil which gives the potato a touch of wok hei. RM32
Confit Portobello is the product of chef YC's Hakka origins. Although coming into what he describes as his 'Hakka-ness' in his late teens, YC believes it allows him to have an irreverent take on it. This dish is a play on the Hakka classic, Lui Cha, with what he thinks is an Italian twist. By remaking lui cha's tea as a cheeseless Pesto, it offers a much more concentrated punch than its traditional counterpart. Paired with the wok hei from blowtorched leeks and deep fried wild rice's crispy texture, the dish playfully stays true to its original. Of course, Portobello and Pesto are a classic pairing. This dish made a deep impression on me. RM35
Japanese baby Kabocha (pumpkin) which offers a lot more in texture and flavour, with a distinct matcha and nori tasting skin after cooking, inspired this dish. It has the inherent complexity to stand up to a 3 step cooking process – oven baking, tossing over charcoal embers, and then sautéing with their housemade kam heong butter. Topped with feta and deep fried curry leaves. RM35
Real truffle fries were served next as an appeasement to my 6 year old granddaughter but we adults enjoyed them just as much. Straight cut fries tossed in truffle oil and shredded summer truffle, served with a housemade truffle aioli with plenty of garlic, lemon zest, and truffle, were finished in a jiffy. RM48
The Canadian Scallop was pan seared sans butter to preserve the purity of scallop's delicate flavour. The star of the dish was the emulsion sauce, somewhat inspired by Caesar salad dressing, but double downed on the funkiness by making cencaluk the main flavour component, marrying that with calamansi, an ingredient that YC loves but find it hard to use due to its highly specific flavour profile which often makes it stand out too much. Served with deep fried lotus root as crisps for texture and blanched pucuk paku (fiddlehead fern) for freshness. RM55
Smoked Iberico Abanico is a cut of meat that presents quite a challenge to chefs given its uneven thickness and fat distribution, as it comes from the muscle around the ribs. YC handles it by salt-curing and then marinating it in their homemade dry rub overnight. It then undergoes cold smoking in their offset smoker for at least 2 hours with Hickory wood, then grilled over open fire before serving with grilled Charleston pepper and chimichurri. This dish still lingers on my taste memory with its distinctive smoky flavor complemented by the chimichurri. This is such a welcome change from the current hype over Iberico ribs. RM65
The Rack of Lamb thumbs its nose at the traditional French way of cooking racks of lamb. YC removes the fat cap but not for discarding. . After all, fat is flavour. By removing the bone and the fat cap, he ends up with a perfect ribeye, which can be crusted on all surfaces over charcoal fire, before he glazes it with their signature kicap glaze, partly inspired by the Terengganu nyonya kicap manis which YC grew up eating. The heart of this dish is the fat, which he renders over the hotplate and grilling and glazing it over charcoal. Served with blowtorched edamame in a saikyo miso and ginger dressing, and pickled shallot. Absolutely divine. RM85
This Cod dish is inspired by Swedish masterchef Björn Frantzén's honey glazed cod, but instead of a butter based sauce, YC took the Chinese route by serving it with a superior soy and fumet (fish stock) made from the cod bones. The incredibly fatty cod belly is turned into bacon by salt-curing and smoking with Earl Grey and Chamomile, which he sprinkles on top of the charcoal grilled Dragon Chives. The dusting with dehydrated Calamansi powder before serving elevates the dish to new heights. RM128
Miyazaki A5 Ribeye is the creme de la creme choice for premier steak and grilled over charcoal until a golden brown crust forms, is pretty much the best way of eating such an exquisite ingredient. Hence, it was an incredibly challenging feat for YC to think of a way to present the dish with a Malaysian touch. He went with a caramelised onion jam flavoured with serunding spices (coriander, fennel, and cumin), to remind diners of rendang or serunding while they enjoy the beef. There is also a tonkatsu sauce, which is traditionally served with deep-fried pork, but he thought the combination of the savoury and tangy sauce with the flavours of serunding took the dish to another level. Served with pomme pavé, almost a hundred layers of thinly sliced potato baked in duck fat and seared until crispy; and seared eryngii (king trumpet) mushroom. This is a steak dish from the Gods. RM180/100gram
Above Gastro Bar is definitely one restaurant I plan to return to again and again. To eat their divine dishes is worth huffing and puffing up the stairs for.
Han no need for the red carpet. A resting chair on the landing will do!
Above Gastro Bar
Rooftop, 89, Jalan Sultan Yusof, 30000 Ipoh, Perak
Tel: 012 510 6975
Monday – Closed
Tuesday to Thursday – 6pm to 11pm
Friday to Saturday – 6pm to 12am
Sunday – 6pm to 11pm
by See Foon Koppen